Finding the best air fryer for your home may seem a bit overwhelming.  If there is one air fryer there must be a bazillion. Not only will an air fry serve you from a healthy stand point but because less oil, a lot less oil, is needed cleanup has been a snap with every air fryer we have used.  All of the racks from todays air fryers are dishwasher safe, even the basket style fryers have dishwasher safe parts.  These air fryers and the accessories that come with the best air fryers are very exciting.
Is "air fry" or " air fryer" an oxymoron?
Frying anything has always been associated with oil or butter, fat or grease of some sort. Cooking today in an air fryer or a toaster oven can be so much healthier than even a few years ago and air fry recipes range from a breakfast bake to an apple crisp. Air fryers will air fry just about anything you can imagine, turn your frozen fries into crispy crunchy fries.  Chicken has been our go to dinner this past summer. With fries as a side. There is so much more we have cooked in the past and once we're through with football I'm sure we will again. As a family on the go, a chicken or a steak, frozen veggies with a simple air fry make for a great evening at home with a must have appliance.
Who would have thought we would be cooking "fried chicken" with a little hot air.
The capacity and style  of these appliances have evolved over time so that now we can evenly bake a cake, roast vegetables, crisp chicken, steam fish, bake a potato all at the same time A dab of oil brushed over your pot roast clearly beats a deep fried hamburger with fries.
We can thaw the frozen and reheat the cooked.
The capacity of air fryers vary as much as the styles.  The functions and features will blow your mind too. Two basket,2 quart, Four basket, 8 quart or the original single basket, The toaster oven style or the Egg shaped style, there is an air fryer for everyone. They all work off the same concept with a fan blowing that hot air. The features we found on the premium NuWave model served our needs.
Do you love fried foods but know you shouldn't?
Eat Your Favorite Foods with an Air-e Twist - Air fryers are all the rage these days, and for good reason! These incredible air fryers, wrap a toaster oven function, a convection oven function and so much more into one relatively little appliance and allow you to enjoy all of your favorite fried foods without any of the guilt.
But what exactly is an air fryer and what can you cook?
Instead of deep frying you can bake, roast and cook anything from chicken wings, French fries, frozen foods can be steamed, or cooked to your liking. You're going to take French fries and frozen foods to a whole new level. Cooking fish has never been easier either.  Air Fryer is now almost a generic term now because technology allows us to do so much with one appliance. One Air Fryer, takes up relatively small counter space and can cook just about anything your toaster oven, your deep fryers , instant pot or your convection oven can do. We have found cooking in our air fryer is almost the only way to go anymore.
Fried food is a distant memory.  It's time to embrace the airfryer.
Reheating just about any food including french fries from last night, the chicken wings, the pizza, or any left over food, is like giving these foods a new lease on taste --(so to speak). And how does it work? Keep reading for a quick guide to air frying your favorite foods.
What is Air Frying?
Although we grew up with plenty of fried food and fried chicken is a comforting memory, the truth is air frying is a healthier alternative to deep oil frying. Traditional deep frying involves cooking your food in hot oil, with a high speed fan sucking out the smoke. Never mind the  unwanted calories and fat. Air frying works by choosing your temperature and a high speed fan circulating hot air around your food, resulting in crispy, delicious foods. The airfryer fan blows the hot air and voila your French fries, chicken, pizza, and other wonderful food is much lower in fat and calories. It's a great way to cook frozen foods fast and still keep the crisp. We do love our crispy fries.
How Do Air Fryers Work?
An air fryer works by circulating hot air around food placed in its basket. Although the air may not get hot in an instant by the time you pull the basket out of the 2 quart air fryer, it will be.  The hot air in the fryers surround the fries for example and cooks it evenly. Result - crispy, fried-tasting food without any of the grease or as much fat as cooking in oil fryers. Air Fryers have different capacity and adjustable temperature controls so you can cook your food to perfection every time.  Everything from frozen foods like vegetables to chicken wings air fry beautifully in the following air fryers. There is nothing like chicken or a hot pizza in minutes when you're hungry.
Air Frying Tips and Tricks
Now that you know the basics of air frying, here are a few tips and tricks to help you become a Ninja Air Fryer Person
- Preheat your air fryer before adding any food.
-This will help ensure even cooking.
- Cut your food into uniform pieces for even cooking.
- Add a bit of oil to your food before cooking to help crispiness.
-Apply oil with a pastry brush for best results.
-This works great for foods like chicken wings, potatoes, frozen fries
- Check food occasionally to ensure it is cooking evenly.
- Most air fryers come with timers, some have sensors.
-Shake basket half way through for extra crispy fried foods.
-Serve immediately for best results!
If you're looking for a healthier way to enjoy your favorite fried foods, look no further than the air fryer! Toss the toaster oven and clean off some counter space, decide whether you want a small 5.5 quart size appliance with a slide out basket or larger capacity style air fryer.
Get ready to have fun cooking! Whether you're an instant pot chef, a microwave expert or a fried food Ninja Air Fryer Person, an air fryer is important and we want to help you pick the best air fryer for you and your family.
How we Picked our favorite Air Fryers
The choices for Air Fryers in the marketplace are overwhelming. Several of us on our team have had our own Air fryers for years, a couple have never had one, and one member was in the market for a new Air Fryer. Just so you know, if you should happen to purchase a product from us we may earn a commission. Be sure it does not affect your price- so thank you in advance.
We agreed; once again- time for all of us to end our affair with fried food.
Air fryers have been around for a long time but have become a kitchen must-have in recent years. With the increase in popularity and improved technology, comes an influx of functions and choices and yet an appliance that takes up relatively little counter space. When I think about how often we all use our air fryers and hardly if ever use our toaster oven, or toaster and how rarely we use even our convection oven, I am amazed. Heck, our air fryer will cook or bake anything as evenly as our convection oven with a lot less energy. .
I love our air fryer.  We cook so much in our air fryer today.
Our favorite is probably crispy chicken wings. Even though it did take me a few try's to get them right. French fries and the frozen veggies - no problem at all.  Shake the little basket and voila, perfect fries!
We were looking for air fryers that could do almost everything.
Yep we want to bake, roast, reheat, crisp with a control panel that is easy to use and see . Our research began by looking for durability, size, design, price, functions and capacity. Temperature range and control was important tool. We wanted set an Air Fryer on the counter and not take up all our counter space. We wanted to be done with the toaster oven and move on up to the world of air fryers.
We found what we were looking for in the NuWave Airfryer.
The number of different models, thousands of positive reviews and hands on use, we decided on our favorites for the best air fryer pick. By no means was this an instant endeavor. Although we may have been eating healthier and came up for air on occasion, we also ate a lot more :) When evaluating our choices we kept in mind the capacity of each of the fryers too.
Let's look at the Nuwave options and what got our "pick"!
Pick # 1
Want an air fryer that will air fry more than frozen foods in a basket?
Meet the NUWAVE Brio Air Fryer Toaster Oven, 15.5-Q.
This is not your mama's toaster oven!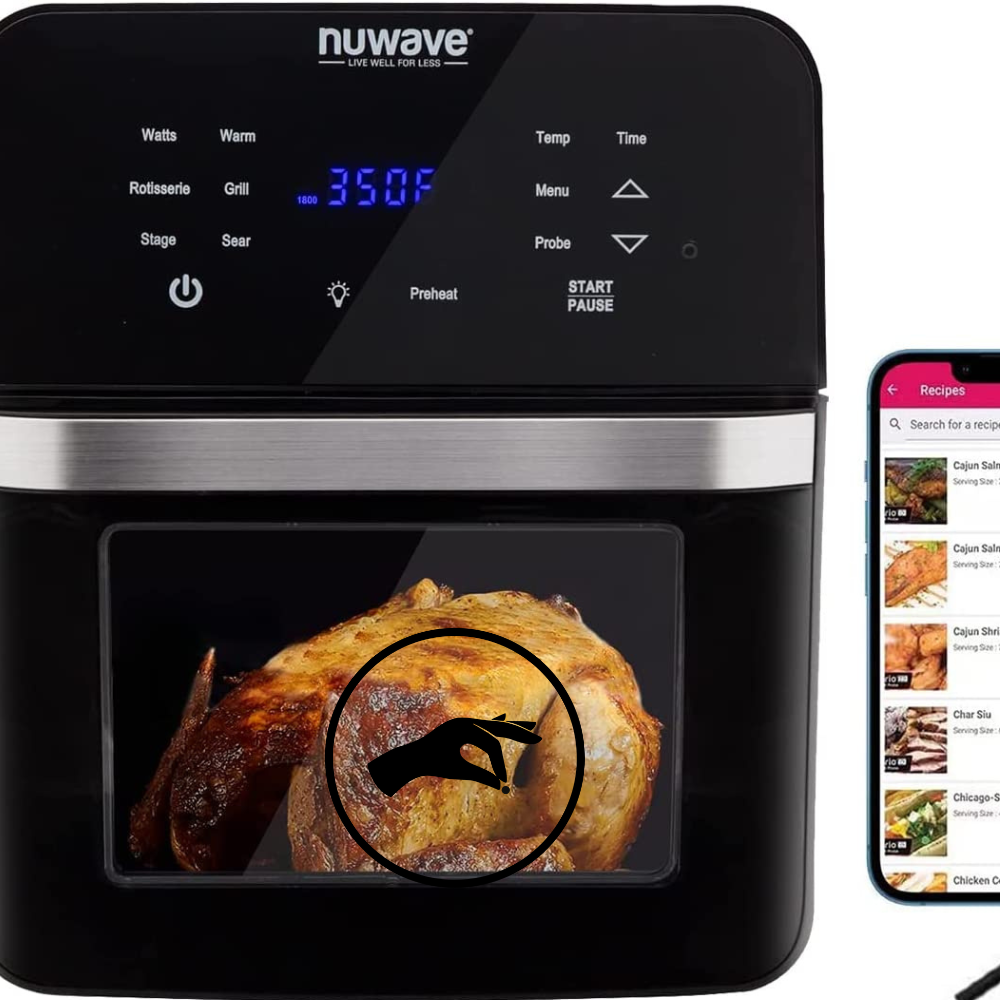 15.5 Qt Brio Air Fryer Toaster Oven
Check Price on Amazon
This incredible kitchen air fryer is programmed with 100 pre-set menu options, so you can easily grill, air fry, bake, broil, roast dehydrate, reheat, defrost, toast and more! No need to fire up the convection oven.  Plus, it has 50 memory slots where you can save your own favorite recipes for quick and easy air frying  access. The 4 different rack positions and large capacity, make it easier than ever for cooking  lots of dishes. Cooking and serving everything hot at the same has proven to be a challenge on more than one occasion. This style air fryer with large enough capacity for the two of us and then some is just right.
The NUWAVE Brio Air Fryer Smart Oven is versatile enough to handle any cooking task.
No matter what you're in the mood for, the NUWAVE Brio Air Fryer Toaster Oven has you covered. So go ahead and get cooking – your best air fryer dinner is just minutes away!  Perfect for busy households. This makes the best air fryer list!  See the Amazon reviews on these air fryers.
Top reviews from the United States
Michael M   5 out of 5 stars
Most Used Appliance in Kitchen
Reviewed in the United States on July 18, 2022
Size: 15.5QT Brio Verified Purchase
"We bought this over a year and a half ago (in Jan 2021) and it quickly became the most used appliance in the kitchen. More than the microwave and certainly more than the oven. It is flawless, works great all the time and cooks/reheats everything perfectly.
Yeah, those fast-food fries reheated in this (air fryer)taste exactly as they do hot in the bag. No joke.
The only complaint we have, and I'm sure it's from over-use, is the on/off marking on the touch button has completely worn off. The start/stop marking is close to disappearing also. Putting a piece of clear packing tape over the markings will help in preserving them.
Overall, we love it."
Reviewed in the United States on August 28, 2022
Size: 3QT BrioVerified Purchase
"This is my second one I love cooking with this air fryer Most useful item in my kitchen"
Fantastic mid-size Air fryer/ Oven
Reviewed in the United States on August 23, 2022
Size: 15.5QT BrioVerified Purchase
"Easy to use with the help of the manual, fast cooking and gives food a wonderful texture and Flavor..."
Norma Rasmusson 5.0 out of 5 stars
Reviewed in the United States on August 28, 2022
Size: 8QT BrioVerified Purchase
Ken Cantrell  5.0 out of 5 stars
Reviewed in the United States on August 17, 2022
Size: 15.5QT BrioVerified Purchase
"Easy to use, easy to clean, best steak not cooked on a grill."
Chase Wyatt 5.0 out of 5 stars
Reviewed in the United States on August 9, 2022
Size: 8QT BrioVerified Purchase
"There is life before the air fryer, and life after the air fryer. All positives, zero negatives."
Pick # 2
Best Air Fryer - (our favorite anyway)
NUWAVE Bravo Air Fryer Oven, 12-in-1,
30QT XL Large Capacity Digital Countertop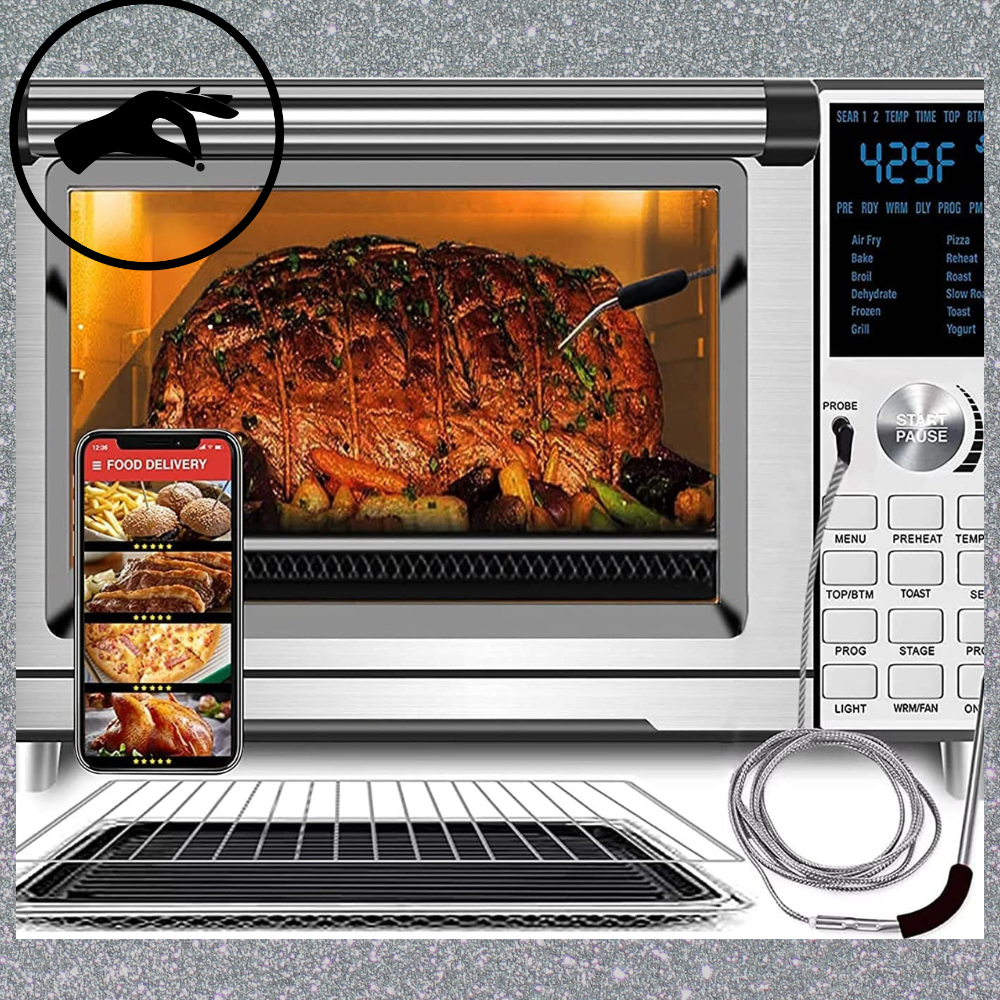 30 Qt XL Bravo Air Fryer Oven
Check Price on Amazon
       The NUWAVE Brio Air Fryer Smart Oven!
This amazing appliance is perfect for anyone who loves to cook, with 112 presets and conveniences built in. With 12 preset cooking functions for grilling, air frying, baking, broiling, roasting, dehydrating, reheating, defrosting, toasting and more. The Heavy Duty Racks with a Load of Over 30 Pounds, 50°-500°F Temperature Controls, and the grill-griddle accessories are included. The brushed stainless steel look is beautiful.
It comes with 100 pre-programmed recipe presets and 50 slots where you can save and recall your own favorite recipes. If you love toast, you can select between 10 shades from light to dark. The possibilities are endless with Air Fryers!
The super non-stick grill and griddle plate is thick and perfect for absorbing and retaining heat for excellent grill marks and overall searing. With auto preheat, preheating the grill is easy. Simply insert the probe; set the desired doneness temperature; let Bravo do all the work!
Grill all year long, indoors or out, and cleanup is a breeze.
Top reviews from the United States
Reviewed in the United States on June 25, 2022
First, I love that this does not heat my kitchen like my oven does. The preheat time is fast, and cooking time is also fast. I haven't tried any of the programs. I started with a few of the included recipes, which I followed to the letter, then I started experimenting with those recipes to see how they work with other foods. The grilled asparagus recipe is an excellent one to start with. My asparagus came out wonderfully, but I found it is good to keep an eye on doneness until I understand how this oven works. After the asparagus, I tried salmon with the same method and it was perfect. As were the hamburgers and then meatloaf I tried next. I think one good point to this oven is that there is no one correct way to make anything. I really like the grill - it cooks quickly and efficiently. I suggest learning how to adjust the temp of the upper and lower elements - that is important if a food seems to be cooking too fast on top or on bottom. I have since baked cookies - they cooked in about 7 minutes per batch. French toast is amazing as was bread pudding. Get the hang of a few of the included recipes and then go from there. I even made really good 5 minute a day artisan bread. I have a small vintage Descoware Dutch oven that fits into the Nuwave oven. I baked a small loaf in the Nuwave exactly as I would in my regular oven and the bread was excellent. And I didn't overheat my house. The oven isn't complicated....................."
Replaced another countertop oven to get more versatility and wasn't disappointed.
Reviewed in the United States on September 9, 2022
I'll admit that I was hooked by the infomercials and ads highlighting the versatility of the Bravo XL. Having used it for several weeks now, I have not been disappointed. From the interior light to the multiple adjustable settings, it has actually been fun to cook with. Proofing dough, making toast, broiling, baking, and reheating leftovers. The meat probe that turns off the heat when the meat is cooked is also impressive. There are several improvements I would make including to the racks but I have several sturdier racks from my other oven that fit well and address that issue for me. Time will tell, but I am enjoying using this oven right now,"
Pick # 3
NuWave Duet Pressure Cook and Air Fryer Combo Cook; Stainless Steel Pot & Rack
+Non-Stick Air Fryer Basket; Steam, Sear, Saute, Slow Cook, Roast, Grill, Bake, Dehydrate, Pressure Cook & Air Fry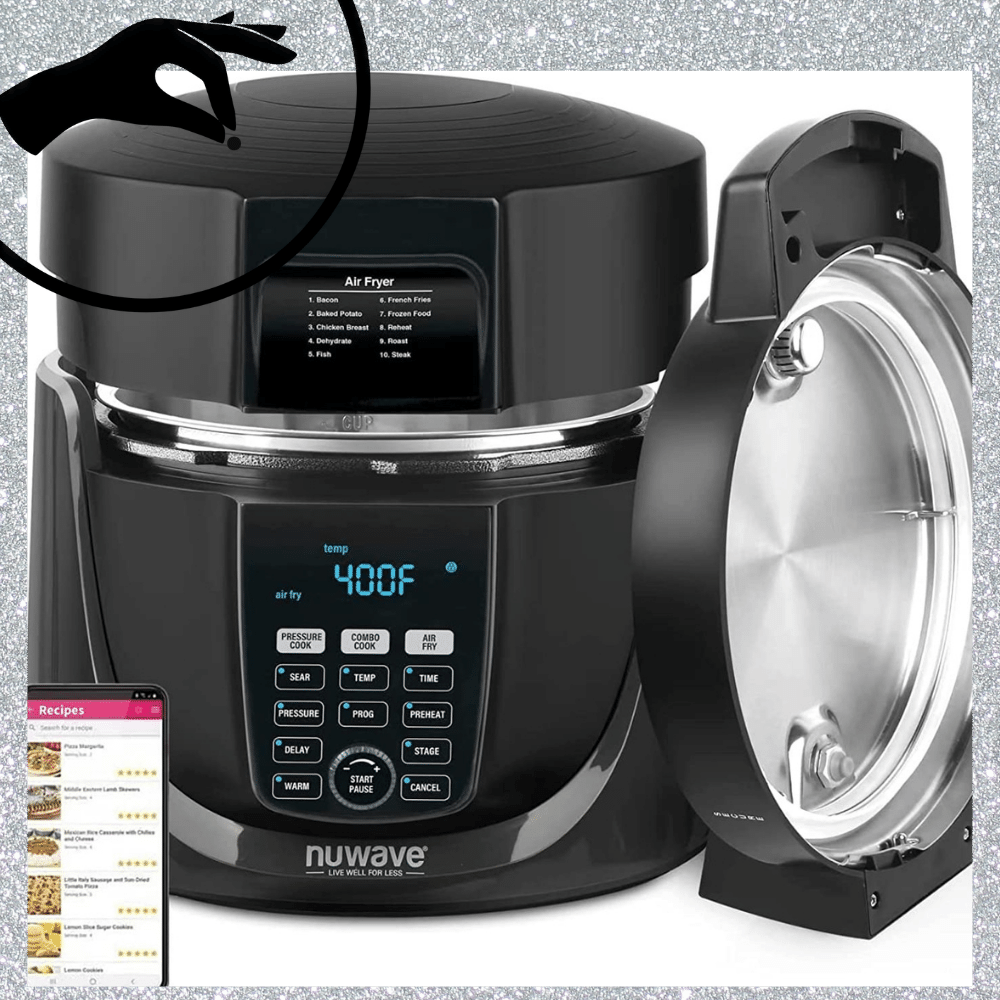 Air Fryer/Pressure Cooker Combo
Check Price on Amazon
The Nuwave Duet Pressure Cook and Air Fryer Combo Cook is the perfect appliance for any kitchen. With its ability to roast, grill, bake dehydrate, sear, steam, slow cook and warm, the Duet is versatile and easy to use.
Cooking in this air fryer is a dream, we really loved the chicken wings. We had breakfast the other day and I swear the eggs were done in an instant. The functions are many and incredibly simple. It cooks everything evenly.  Not only is the pressure cooker wonderful but the air fryer is the bomb! Everything we have cooked in our air fryer seems to be with much less fat and healthier too. Taste is very very good too.
It'll cook, roast, bake, crisp - everything but put itself in the dishwasher, even though the racks and basket are dishwasher safe.
The control panel offers 10 air fry settings, 6 pressure cooker settings and 300 preprogrammed cooking presets so you can just touch and go! The Duet's cooking technology also includes features like PREHEAT, DELAY, STAGE cooking, Auto WARM mode, and so much more. You can also save and store your favorite recipes on the Duet for easy access. The NuWave Air Fryer is a versatile appliance that can roast, grill, bake, dehydrate, sear, steam, slow cook and warm.  And of course dishwasher safe parts. Your favorite meals are done with just the press of a button. The DUET is different than others with removeable lids. This means it can be used as a stand-alone 6-quart pressure cooker or a 4-quart air fryer. The NuWave Air Fryer is a must-have appliance for any kitchen. So whether you're a beginner or a pro, the Nuwave Duet is the perfect appliance for cooking or reheating any of your food.
A few 5 star ratings for you
Reviewed in the United States on June 1, 2022
Color: Stainless SteelVerified Purchase
I am in love with this item. I just need to do some research on time/temp for certain foods. I still wouldn't trade it for anything. So glad I purchased. The chicken and beed that I have cooked in it have came out delicious. My rice, I've had to experiment with it to figure out the correct amount of water, time and temperature. My broccoli and other vegetables come out yummy. HIGHLY RECOMMEND IT
Brenda J Freeman 5.0 out of 5 stars
Reviewed in the United States on August 29, 2022
Color: Stainless SteelVerified Purchase
I'm loving this device. I even bought one for my son. No disappointments so far
Reviewed in the United States on August 16, 2022
Color: Stainless SteelVerified Purchase
I bought it for my wife as an Anniversary gift she loves it.
Haven't used it yet but it looks and appears to be a quality item.
Will update later on.
The following are a few of the most popular air fryer questions we've put together for you.
What is an Air Fryer?
An air fryer is a kitchen appliance that cooks by circulating air around the food. Air fryers circulate the air quickly and evenly, cooking the food while using little or no oil. This means that foods can be cooked and you can reheat with a fraction of the usual amount of oil, making them healthier and reducing fat intake. With the features offered by Air fryers today you can replace a number of appliances.
Do we really need Air Fryers?
Air fryers are amazing little devices that can help you cook healthier versions of your favorite fried foods. By using hot air to cook food, rather than oil, air fryers can reduce the amount of fat and calories in your meals. In addition to being a healthier option, air fryers also cooked food faster and more evenly than traditional methods. Whether you're cooking chicken wings or french fries, an air fryer can help you get Crispier, tastier results with less hassle. So if you're looking for a healthier alternative to deep frying, or just want to speed up your cooking times, an air fryer is a great option to consider.
Can oil be used in an Air Fryer?
Yes, you can use oil in an air fryer. In fact, most air fryers come with a coated cooking basket that helps to prevent sticking and makes it easy to cleanup. Oil is a great choice for air frying because it helps to produce a crispy outer crust while keeping the food inside moist and juicy. And unlike traditional frying where the food is submerged in hot oil, air frying uses high heat and circulated hot air to cook the food. This means that you can use less oil, making it a healthier option.
Are Air Fryers better than a Toaster Oven?
Looking to buy a new kitchen gadget and not sure which one is right for you? Air fryers and toaster ovens are both good options depending on what you're looking for. Here's a quick comparison of the two appliances so you can make a decision based on your needs.
An air fryer uses convection cooking to circulate heated air around food, resulting in a crispy exterior without the need for added oil. This makes it a healthier option than deep frying food in oil. A toaster oven also uses circulating air to cook food, but it doesn't get quite as hot as an air fryer so the results aren't quite as crispy. You can reheat with an air fryer and get that crisp juicy flavor. A toaster oven has it's place just like air fryers do.
Can I air fry in just one basket at a time if I have a two basket air fryer?
Yes, you can air fry in one basket at a time using a two-basket air fryer. The key is to make sure the food in the upper basket isn't blocking the airflow to the food in the lower basket. One way to do this is to rotate the upper basket every few minutes so that it doesn't rest on top of the food in the lower basket. Another option is to use a wire rack to place between the baskets. This will help create more space between the baskets and ensure better airflow. Just be sure not to overcrowd the wire rack with too much food, or it will block the airflow and affect your results.
Can I buy an extra or a replacement basket for my air fryer?
Yes, you can buy an extra or replacement basket for your air fryer. The baskets are usually dishwasher safe, but be sure to check the manufacturer's instructions before washing. Some models also come with a non-stick coating that should not be washed in the dishwasher. Instead, hand wash with warm, soapy water and dry completely before storing. Functions of air fryers may be similar the manufacturers are different in their guidelines.
In Conclusion
If you are looking at Air Fryers because you want to eliminate deep fat frying, or you want to eliminate a few appliances now may be the best time for you to choose your air fryer. Whether you're looking for a mini or a max, there is an air fryer for you. One of these appliances can bake, crisp, roast, reheat, cook and take up less space then two or three of your other appliances. The features offered on air fryers today would have our grandmothers tossing out the lard-- well we hope so anyway. :)  An air fryer is more than a toaster oven, or a convection oven with a fan that circulates air at high speed.  It's a godsend. :) Sometimes we wonder what the next wave of air fryers will be doing for us. These great kitchen appliances can achieve that best air fry taste and browning and give you the crisp and crunch you get from deep fat  fryers but without the extra calories. Our family absolutely loves chicken wings and with the fall football season upon us we will be cooking and eating more food than we should, at least our food will be healthier, right? These handy little air fryers by Nuwave are easy to use and allow you to enjoy "fried" foods without any of the guilt. So what are you waiting for? Give air frying a try today with your own air fry machine.
Check back soon we will have an Air Fryer Recipe Gift for you.
Thanks again for spending time with us.
The Pod Team